Over 160 varieties grown this year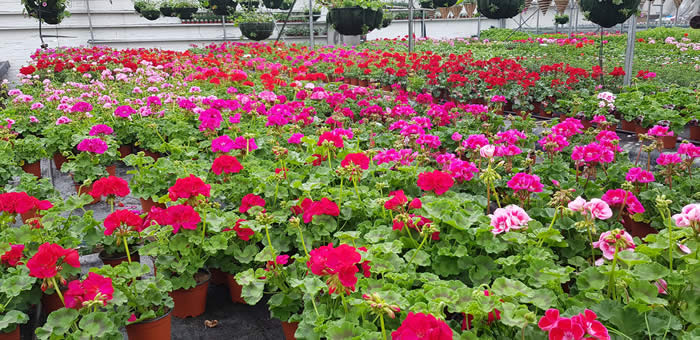 Available in
6 cm mini-pots £1.10 March/ April only.
11cm pots £2.10,
and 1 litre pots from £3.95 available April- June.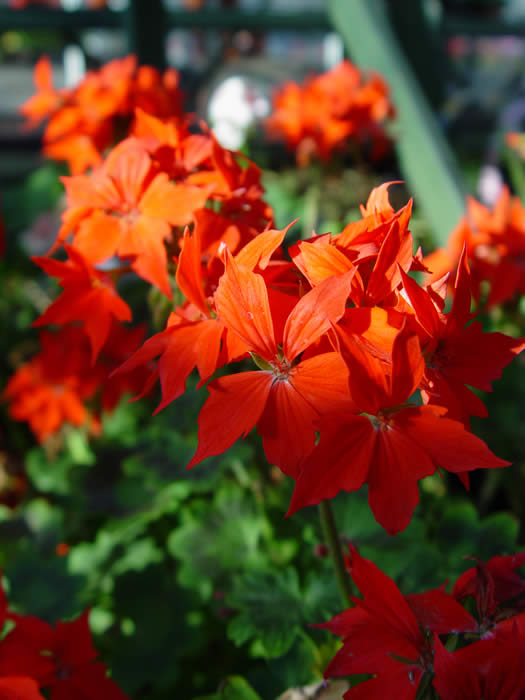 Geranium Summer Twist Red and White (two tone flower in 2020) image above shown for flower shape not colour guide.
1 ltr pot £3.95
The main Geranium glasshouse holds around 4,500 geraniums each spring,
these include upright, trailing and pelargonium types grown from cuttings.
Great strides have been made in recent years to improve the characteristics of both trailing and upright geraniums grown from cuttings.
Of obvious benefit to gardeners is the improved habit and flower power of the modern varieties.
Less noticeable, but just as important, is the virus free stock that most cuttings now come from which
ensures "true to type" plants and uniformity of habit and flower form.

Using plants from this stock we can ensure that you, the gardener, can plant with confidence as
all our cuttings are certified virus free.

We grow over 4,500 plants in over 160 varieties
as well around 2,000 single flowered F1 hybrid types from seed.

Available during March and early April as Mini-pot starter plants,
11cm and 1ltr finished plants from April to June, as stock allows.